Sexy Art Gallery
Yesterday we met Zaki from Sexy Art Gallery, and we had a nice chitchat about sexy art and his interesting projects for the future.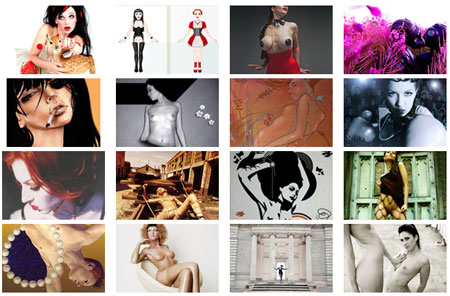 Sexy Art Gallery exhibits, promotes and sells Sexy Art. Sexy Art encompasses a broad range of artistic genres, namely, Fine art, Pop Surrealism, Fetishism, Erotica, Fantasy, Gothic art, Pin-up, Glamour, Street art and Kitsch.
Sexy Art Gallery focuses on representing both emerging and recognized artists, priding itself on exposing cutting-edge sexy Art. The art being shown maintains a provoking and provocative stance, with an unapologetic and non-compromising approach to the expression of sophisticated sexuality.
Sexy Art Gallery is intended to be user-friendly and was designed with you, the buyer, in mind.
Be sure to give a look at Sexy Art Gallery, you'll find two well-know personalities here at Pornsaints: Ida Belogi and the Pornpope himself, Francesco D' Isa.
Between the artists you can find:
Ida Belogi
Jan Hronsky
Naomi Nowak
Francesco D'lsa
Brian M. Viveros
Matthew Stradling
Saryn Angel
Massimiliano Panzironi
Tobias Slater-Hunt
Vladimir Perlovich
Katja Ehrhardt
Torben Raun
Thomas van de Scheck
Patrick Ceuppens
Wil Cohen
Peter Felix Kurtz
Lior Ron