Pornsaints Art Exhibition #2 @ Hotmovies.com Grand Gala in Philadelphia
You are invited to the Pornsaints Art Exhibition @ Hotmovies Grand Gala in Philadelphia (USA). The event is set to take place August 2, 2008 at Transit night club 600 Spring Garden street in Philadelphia.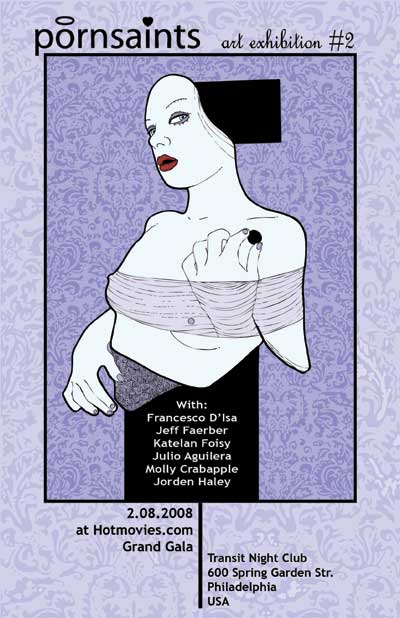 We will get a whole lounge/bar to ourselves! That's three walls; 30 ft. 15 ft. and 10 feet. For the party, Hotmovies expects between 500 and 1500 people. There will be studios heads, stars, affiliates, employees, comedians and press. And of course, Pornsaints.
Pornsaints.org will exhibit artworks by:
Francesco D'Isa
Katelan Foisy
Jeff Faerber
Molly Crabapple
Julio Aguilera
Jorden Haley
HotMovies.com Celebrates 100,000 Movie Milestone
The VOD Giant's 100,000th Movie Is Cause for Big City, Late Night Party

The VOD Giant's 100 Grand Gala Attracts the Best in Adult Entertainment and Live Performance

PHILADELPHIA, PA – The Adult Industry's hottest will join HotMovies.com and National A-1 employees to commemorate the addition of the site's 100,000th movie.
"The Hundred Grand Gala, as we're affectionately referring to it, is a celebration of how far HotMovies has come and all the hopes and plans we have for the future," says Director of Marketing and party organizer James Cybert. The event is set to take place August 2, 2008 at Transit night club in Philadelphia. "The bar is open and the fun goes late. We've worked really hard to get here and we're going to enjoy it."
Opening the evening will be a live burlesque performance from the world famous Peek-A-Boo Revue. Miss Exotica 2008's 'Best Troupe' presents an adults only pastiche of singing, dancing and comedy to warm up the crowd and set a general tone of decadence and debauchery for the evening.
Artists from PornSaints.Org will be on hand for an exhibition of their porn star inspired art as well. Porn Saints' artistic approach to porn is the brain child of artist Francesco D'Isa. "Art needs something naughty and porn needs something classy." Works by Francesco D'Isa, Katelan Foisy, Jeff Faerber, Julio Aguilera, Molly Crabapple and Jorden Hale will be available for purchase.
America's most dangerous game show, Strip for Pain, will cap the evening with a legendary contest of will and endurance. Male contestants are subjugated to hilarious tortures (nipple clamps, tazer, paddle) by gorgeous women with an attitude. "As the contestants take more pain, the girls, beautiful strippers and adult film performers, take off their clothes. It's that simple," says Doug Sakmann, who co-hosts the event with Alt Porn Entrepreneur Joanna Angel.
"With DJ Excel on sound and Ron Jeremy bringing the dance moves, this should be an evening to remember. Or not. I guess it depends on if you get there early and take advantage of the open bar," Cybert muses.
HotMovies' customers might not be able to rub elbows with porn stars, but they are invited to get in on the action as well. At midnight the 100,000th film, courtesy of Elegant Angel, will go live on the site as it's introduced at the party. End users will also be treated to free minutes for their pay-per-view accounts to help them kick things off.
While porn's elite gather to help celebrate, HotMovies.com is already looking towards the next milestone. Cybert continues, "Crossing a threshold like this means growth will be exponential. Our numbers will get bigger and our selection wider until we're the largest, most user friendly porn repository in the world."
All media inquiries and requests can be forwarded to John Zito [john@HotMovies.com]