News Bulletin from the Porn Church
Dear loyal believers, this is an official news bulletin from the Pornpope. What's the future of the Pornsaints Church? There will be new opportunities? New projects? New Pornsaints? Read below and you'll know.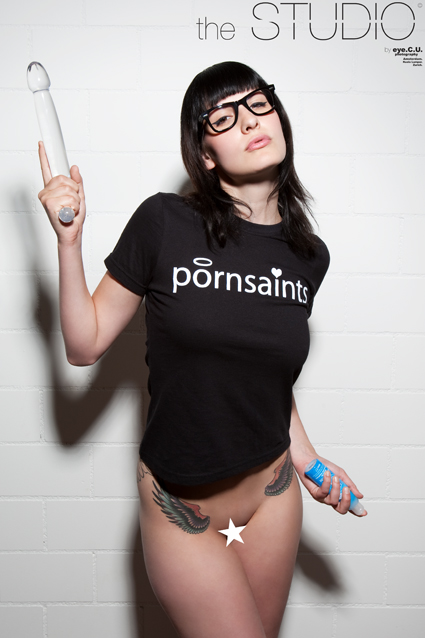 (Pic from The STUDIO in Zurich, model is Andrea Ebener)
1) Our first Pornsaints Video Clip, ideated by the Pornsaints team and produced by El Diablo production is almost done. It will be released really soon and we are really excited! Just two minutes long, but with porn stars, Georges Bataille and Bach.
2) Our call for art curator is still valid, even if we already got some interesting proposals. Maybe a future Pornsaints exhibition in Austin (US) will be curated by a sweet new pornbishop, for example.
If you are interested, this is how it should works: Our curator propose our group to a venue/gallery, if the venue is interested, we discuss the exhibition details, the participating artists etc., and the curator will handle the exhibition, promoting, following and curating both the artists and the gallery. Of course with our help, and having full access to our channels and contacts. Then, he/she will take a commission on art sales as reward, and a great show done!
This is a professional work and must be done professionally, cause pornsaints will invest the "brand name" to help emerging curators to organize great exhibitions.
3) The Pornpope Francesco D'Isa will have a solo exhibition in October @ Mopia, Zurich, Switzerland. Moreover is organizing his biggest solo show here in Italy, in a cool gallery in Perugia (http://www.miomao.net/). If you are interested in promoting your products in Italy, the gallery has an interesting audience, and he's looking for some small budget sponsorships for a wide range of participation levels.

The gallery is the only one in Italy specialized in famous comic artists and drawings, their actual exhibition is a solo show of Miguel Angel Martin. They participated to art fairs like the Salon du dessin contemporain in Paris. The show is scheduled for 2010.
4) The Pornsaints fashion line will probably expand, working together with a new brand in fashion, Bigfatfanny.
5) We are working on a new Pornsaints exhibitions, of course.
6) There will be a lot of new Pornsaints released, interviews and articles to come!