Miss Athena Hollow
Miss Athena Hollow is one of our beloved Pornsaints. She's a really interesting person and model, and both Natalie Winans and the Pornpope Francesco D'Isa will work with her again for some new artworks. Read below an interview with Athena, and look her sexy set with the pornsaints cloths!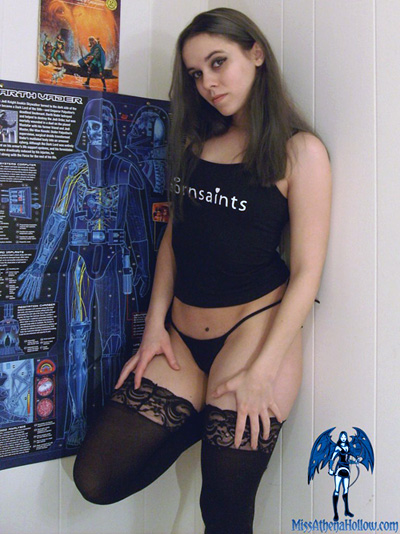 Miss Athena Hollow for Pornsaints
- Why you get naked in front of a camera?
It's the one place where I feel completely in control of my life.
Don't get me wrong, I am in control of my life, but sometimes outside
forces can easily influence things such as your mood, well being, etc.
When I am shooting photos, I am releasing myself from that influence
and doing what feels both natural and right. Plus, it doesn't hurt
that when I am getting naked for MissAthenaHollow.com, I am also doing
all of the shooting. I've become a master of using a tripod + timer.
- Does pornography influences your love sphere?
In a very direct way, but not my pornography. I've loved porn for as
long as I can remember, and have no qualms about watching it to get
turned on, and while having sex myself.
Fortunately for me, I've been with a wonderful guy for 6 years now,
who feels the same way I do about it.

- There's something sacred?
Somethings are sacred, yes, but I have no problem doing most "sacred"
things for an audience provided I am comfortable with the person I am
performing with. Though, I must say, you will probably won't see a
whole lot of anal on MissAthenaHollow. I'm not sure why, but for some
reason, it feels as if it's really meant for just my fiance and I.
We've even had threesomes, and when the topic came up, it just didn't
feel right.
- What do you like in porn?
I love amateur style porn. I like raw, gritty, real (not "reality porn" though).
I also like watching different kinds of porn, mixing it up every once
in a while with something new.
6 months ago, I was really into facial videos, today it's gang bang, 6
months from now it might be lesbian. I never know until I get to that
point.
I think that's why I started GeekGirlsOnline.com . It shows another
side of porn that I have yet to find the bottom of the barrel on. I
never get bored with it, as there's always something and someone new
to show to the world.
- What you don't like in porn?
I am not a fan of plastic porn. The kind that is produced by most
movie companies these days is stale and boring. It's the same thing,
rehashed w/ a different girl, who doesn't know how to fake an orgasm
and makes me wonder if she's even enjoying it. It looks like it's a
job they HAVE to do, instead of loving it.
And "reality" porn. Oh god. Don't even get me started on that annoying crap.
And, finally, unfortunately ATM. Not a fan. If I see it in porn, it's
instantly ruined, no matter how much I was enjoying watching it.

- What does "Pornsaint" mean to you?
I've always seen Porn as a religion with a non-specific diety. We
spend our lives in the industry being deified, and put on pedestals as
the pinnacle of what men and women want and want to be. And what
inevitably comes after being given saint-hood? You receive a beautiful
piece of art work from any number of mediums.
To me, a Pornsaint is much like a saint in the Catholic church for
that very reason.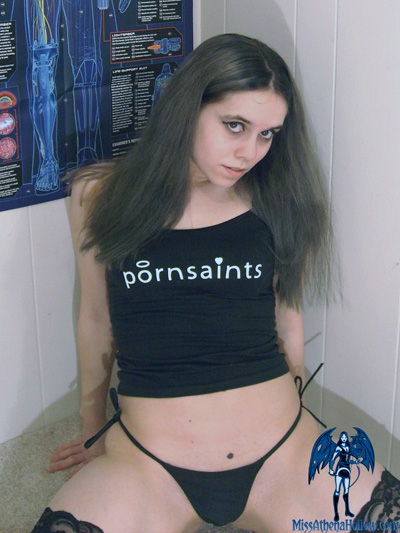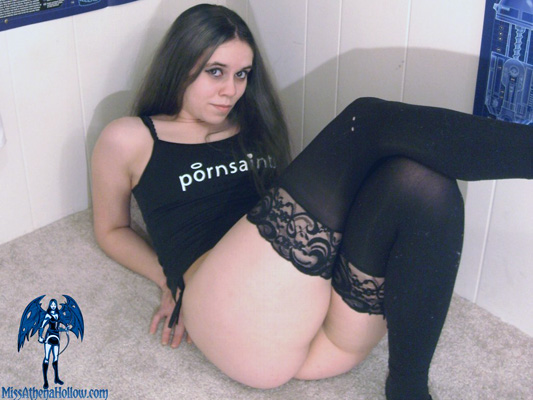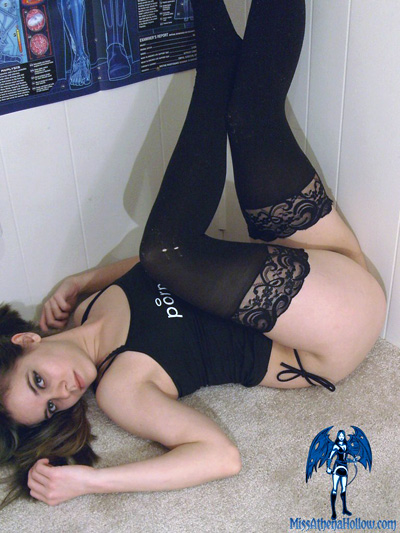 Miss Athena Hollow for Pornsaints