Lucrezia Magazine
Be sure to read the first issue of Lucrezia Magazine, you'll find some interesting erotica literature and art. Lucrezia is an Australian based zine, and editor in chief is our friend Anastasia.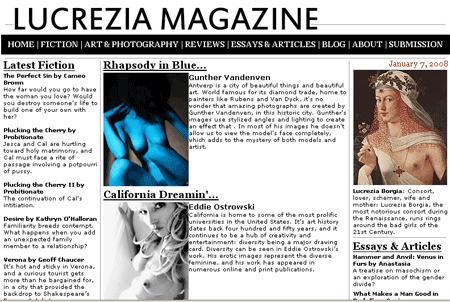 About Lucrezia magazine, by Anastasia:
I have been planning this introduction for weeks, to arrive at the same destination; there was no precise origin or plan behind this online publication, except to say that the erotic market, in terms of literature and art, can be narrow or sporadic, and my wish to contribute and add to the existing market. That is one version.
The other version would be lengthier, perhaps tedious. It would begin with the standard premise: 'What if?' The 'What if?' would be followed by something like, 'an erotic publication were developed, and published online?' This was followed by the usual questions one would ask if one is developing a publication, and then something else happened. Once the submissions arrived, the questions began to fade. It was all about the content: stories, reviews, articles and art.
At this point, I could digress, and discuss my view on erotica, or my own personal experiences as a writer. I can discuss, at length, the steps taken to develop the publication, or the motivations behind its conception, right up to its baby steps, but I'll get down to the essentials: the inaugural issue, and the content within.
This issue would not have been possible without Eddie Ostrowski, who designed the layout you're currently viewing, the writing market listings (Writers Market, Duotrope, The Erotica Readers & Writers Association, Writers Weekly and Naughty Words) and the writers, and artists. Perhaps Lucrezia would not exist without my brash decision to create a domain name one random night, and purchasing a hosting package, but a publication is not an island. Eddie designed the layout, and answered every crazy question I had. Writers don't have telepathy; submissions don't arrive via crystal balls or tea leaves. The market guides were kind enough to list this publication, from the moment of conception, and without their listings, the page you're viewing would be blank, or bereft of the fiction you'll find on the home page.
This issue brings together voices from various parts of the world. This issue also serves as an introduction to the current staff members of Lucrezia Magazine by way of an article, essay and photographic feature: Nicholas, in tongue-in-cheek mode, offers his view on what makes men good in bed (to save us 'womenfolk' the time and 'grief' – his word, not mine), I visit Von Sacher-Masoch's Venus in Furs, and interview Eddie, who sat in the hot chair to answer my questions.
Our January fiction is as diverse as the authors' locations. From Canada, to Melbourne, Australia, this month's fiction offers a broad erotic spectrum.
Cameo Brown describes The Perfect Sin, through the eyes of a besotted female student, in a unique teacher-student story with erotic twists and turns. In Probitionate's Plucking the Cherry, a soon-to-be groom experiences an alternative bachelor party, which unravels over two parts that will enthuse the sexual connoisseur. Kathryn O'Halloran explores desire, its fluctuations and resolution, to inject new meaning to the phrase, 'you can pick your friends, but not your family.' Geoff Chaucer takes us to an opera in Verona, the city that was immortalized in Shakespeare's Romeo and Juliet. The opera is Carmen, but Geoff's story takes place on a sultry day, a perfect blend of voyeurism and al fresco masturbation. In the regency tradition, A E Franzen takes us back in time with a tale of sexual tension, and longing, with the Valet of Vicksburg.
Our reviews for this month offer variation. There are two book reviews for the book lovers among you. Roxanne Rhoads reviews the alternative sex guide: Sex and the Erotic Lover (Mabel Iam), and pinup model Nora Marlo discusses the book that has Hollywood (as well as Ron Jeremy) hot under the collar: Deep Inside (Polly Frost). What came first (no pun intended) on the Internet? I don't have the answer to that question, but sex podcasts are making a huge splash, providing everything from sex-ed to fantasy tips. Eva Adivar will be exploring sex podcasts over the coming months. Her first review, Sexcast: The Experts, will introduce you to the world of sex podcasts.
Our art feature brings you Gunther Vandenven, interviewed by Eddie. Gunther hails from Antwerp, and his unique style of erotic photography offers eroticism and mystique, draped with a shade of blue.
It has been a hectic three months, with many late nights. We are still reading submissions for forthcoming issues, and have planned two themed issues from some of the submissions we have received. Over the coming month we will develop an archive and contributor profile page. We welcome all feedback. Our contact addresses are in the contact section, and we will answer any query.
All the best for 2008
-- Anastasia M