Kylie Ireland Horror Movie
Our future Pornsaint Kylie Ireland is working to an interesting project: an horror movie entitled "The Blood of Virgins".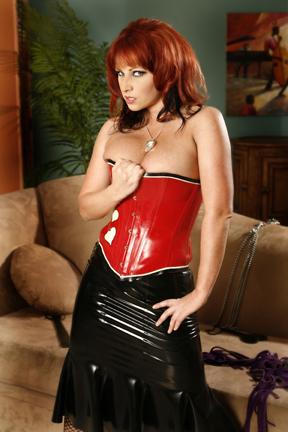 It should be a porn movie, but now she's shooting it first and foremost as a mainstream horror movie. Good work Kylie!
From Kylie's Blog:
"Back on February 7th I headed off to Budapest with the important SexZ movie-making dudes (Eli, Ren Savant and SexZ owner Bo) to scout locations for the next big SexZ Pictures epic 'The Blood of Virgins'. It was a whirlwind week of meeting people, looking at locations and movie planning…we even visited Elizabeth Bathory's actual castle ruins. Originally the plan for the movie was to shoot 10 days in Budapest and 8 days or so in the US. During the course of the week all that changed…now we are shooting the movie entirely on location in Budapest and we are shooting it first and foremost as a mainstream horror movie. We will be shooting the sex scenes as planned, but they are purely as backup in case the "mainstream" part falls through. Here is the real kicker; we will be shooting 5 weeks on location in Budapest. Yup, you read that right…5 weeks.
The Blood of Virgins is the story of a descendant of Elizabeth Bathory (16th Century Royalty who would torture and kill virgins and bathe in their blood because she believed it kept her young) who believes she is being possessed by Elizabeth…either that or she is going insane. We will be shooting part of the movie in modern day and part of it in the 16th Century. As of right now we are reading talent for all the roles with the exception of Elizabeth Bathory, who will be played by Sandra Romain who is coming out of retirement for this project. We will be heading out to Budapest around the 5th of April to begin shooting.
If you are curious as to my part in this adventure, I am a Producer as well as the Head of Art Direction and will have a crew of 3 working with me to create the look of the movie...wardrobe, props and set design. That is a massive job. Especially in a forgien country! I will also be part time BTS camera and full time cheerleader and reasurring girlfriend for Eli when his head explodes from stress. I might also have a small acting role in the movie...Eli is working on the re-writes right now so we will see.
We returned on the 14th after an all-too-brief overnight stop in Amsterdam (we will be going back, after all it's a whole 2 hours from Budapest!) and I hit the ground runnin', jetlag and all, by doing my weekly radio show for Playboy Radio on Sirius Satellite then heading outto a fun personal appearance with Lexi Lamour at 7 th Heaven Gentleman's Club in Palm Springs…then right back to Los Angeles for 3 days of directing Bitch & Moan 2 for Bad Seed."
Via AVN By Mike Albo:
LOS ANGELES – AVN award-winning director Eli Cross and SexZ Pictures are searching for one final actress to round out the cast of the upcoming adult/horror movie The Blood of Virgins. Cross is finding his requirements for the role are making the search a difficult one.
"The search is tough," Cross lamented, "I need a Euro-chick who can act and who's nasty...and the acting part is really hanging me up."
Cross has already been on one European scouting party, but with no results. "I'm going back [to Europe] this week for four days…and then we go back for four or five weeks starting in April to begin shooting," he said.
Asked if he hadn't found any actresses he considered remotely viable, Cross answered, "Viable? If I'm making the same kind of porn movies everybody makes, then sure, I've got some candidates. Girls who can say the words? Yeah. But viable I the sense it's going to be somebody I'm happy with? Not yet."
Cross also noted how the movie was evolving from a strictly porn production. "We're expanding the script because we've got a mainstream release deal for the unrated cut, so we're doing two whole movies: a full-fledged mainstream movie and we're also doing a porn version," he said.
Given those parameters, Cross was very specific on one detail: "This chick has got to be able to act. The last third of the movie hangs on this character. Originally, the part was written for an American, but now that we're going to shoot most of the movie in Europe, I don't really have an excuse for this girl to be an American."
Summing things up, Cross told AVN.com, "And so the search continues. I'm going to need some luck with this."