Kimberly Kane
The beautiful Kimberly Kane will be our next Pornsaint, rendered by Shannon from Sugarcut.com. Read her interview below!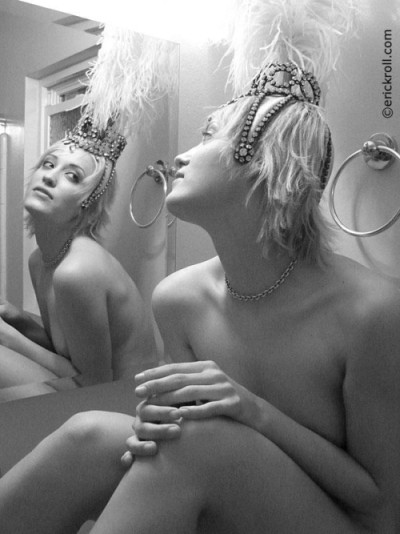 (photo by Eric Kroll)
+ Kimberly Kane interview with Pornsaints:
PS: What are your feelings when you are doing porn?
KK: When I'm in the middle of a porn scene I feel like me and my
partner(s) are the only people in the world. I'm kinda in a crazy mind
space when I'm performing.
PS: Does pornography influences your love sphere?
KK: Yes, I feel porn has influenced my personal sex life. I now enjoy
more intense sex and oral sex. But I never really had an adult sex
life before porn because I got into the biz at such a young age. So
how I have sex now could just be my normal sexual progression....I'm
not sure.
PS: There's something sacred?
KK: ?
PP: What does "Pornsaint" mean to you?
KK: I think what you mean by calling someone a "PornSaint" is you
recognize the difference in what each particular women brings into the
adult business. May it be style, attitude, sexual expression, art etc.
I'm honored to be called a PornSaint :)
+ Biography:
Kimberly Kane (born 28 August 1983 in Portland, Oregon) is a pornographic actress and director.
Kane appeared in her first adult film Troubled Teens in August 2003, around age 20. She had grown up around the business as her mother was a porn producer.
She has a sister, a stepbrother and a half-brother. She was engaged to the porn director, Jack the Zipper, for over two years, but they separated in 2006. Kane has stated that her best friend is the porn star, Ashley Blue.
After working as a co-director with Jack the Zipper, she solo directed her first film in 2006: Triple Ecstasy, an alt porn film produced by Vivid Entertainment. As of August 2005, she was a host on KSEX's Porn Honeys.
+ Awards:
* 2006 AVN Award winner – Best Group Sex Scene in a Video (Squealer)
* 2006 AVN Award winner – Best Oral Sex Scene in a Video (Squealer)
* 2007 AVN Award nominee – Female Performer of the Year
* 2007 AVN Award nominee – Best Actress in a Video (The Visitors)
* 2007 AVN Award nominee – Best Director of a Non-Feature (Naked and Famous)
* 2007 AVN Award nominee – Best Oral Sex Scene in a Video (with Lexi Love and the Gloryhole Boys in Naked and Famous)
* 2007 AVN Award nominee – Best Sex Scene Coupling in a Video (with Evan Stone in The Visitors)
* 2007 AVN Award nominee – Best Three-Way Sex Scene (with Faith Leon and Mr. Marcus in Naked and Famous)
Birthdate:
August 28, 1983 (

1983-08-28

)
Birth location:
Portland, Oregon United States
Measurements:
36B-27-34 (U.S.)
Height:
5 ft 9 in (1.75 m)
Weight:
134 lb (61 kg)
Eye color:
Brown
Hair color:
Blonde
Ethnicity:
Caucasian
Alias(es):
Kimberly Came, Kimberly Kame
Official web site
Kimberly Kane at IAFD