Interview with the Naughty American
Francesco D'Isa and Katelan Foisy got interviewed for The Naughty American about the upcoming Pornsaints Exhibition #2 and much more. Read the interview below!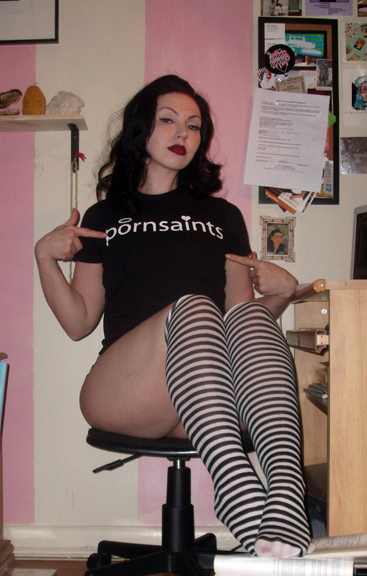 The lovely Kat is gettin ready for Philadelphia
NEW YORK (TNA) – Religious art and porn stars may seem like strange bed partners, but a loose collective of artists are trying to cross-pollinate the spiritual emotions that religious paintings attempt to evoke with the erotic feelings that porn actresses arouse.
The collective is appropriately called Pornsaints and includes more than 30 artists from all over the globe, including its founding member, Francesco D'Isa, who is based in Florence, Italy.
He says the group's missionary position is to show that while there may seem to be a gap between the sacred and the sexual, they have a common root.
"If the saint, in a way, obtained the absolute by clambering up on God (any God), the pornsaint obtained it by climbing over man," D'Isa said via e-mail. "His way doesn't go through renouncing the world of man in favor of the world of God, but through the utmost simultaneous participation in opposite aspects of the human world."
So far, the Pornsaints have expressed their desire to get closer to God through the exaltation of porn actresses by creating spiritually sexy portraits of lusty ladies like Ariel X, Vanessa Lynn, Kylie Ireland, Sasha Grey and Jasmine Tame, who was particularly happy with her portrait.
"I liked the picture they did of me," Tame said. "They're taking porn and nudity and showing how porn is everyday life."
New York-based artist Katelan Foisy, who has done Pornsaint portraits of Nico Elise and Misty Haze, said the duality of the project is why she decided to contribute to the project.
"I like the idea of combining something considered filthy with something beautiful," she said. "I hope when someone sees the site, they get a 'heart-on' at first, and a hard-on later on."
D' Isa's first Pornsaint was Casey Parker, but he's quick to add that not every porn actress can be a Pornsaint. That point is important to Foisy, who believes in looking into the soul of each potential Pornsaint before commencing on a project.
"I decided to paint Nico Elise because I love watching her films," Foisy said. "She puts her own personality and what she likes into her scenes."
Foisy said before she does a painting of an actress, she takes a day and looks at pictures and the various Web sites dedicated to them.
"I want to know who they are and what they like to do," she said.
In the case of Elise, Foisy says the inspiration came when she was watching one of the actress' scenes and noticed a candle of Santa Muerte, the Mexican saint of death. At that moment, Foisy decided her tribute should feature that saint's colors -- black, red and white.
It was an intuitive decision, but Elise liked the artistic choice and told Foisy she once owned a similar candle. In fact, Elise was so happy with the painting that she features it on her own Web site.
D'Isa says that kind of positive porn star reaction is important to the project.
"When it happens that the Pornsaint doesn't like the artwork too much, we change the artist and the artwork. We want our Pornsaints satisfied with their artworks," D'Isa said.
So far, 50 women have been declared Pornsaints and at least 2 more are added each month. D'Isa admits he'd like to immortalize Jenna Jameson and Foisy has her heart set on anal sex expert and porn director Tristan Taormino.
Although many of the Pornsaint paintings have elements familiar with Christian religious paintings, D'Isa says the spiritual concept – which he terms a "philosophical joke" – is closer to Mystic and Eastern philosophies which tend to be more supportive of the idea that sex can be sacred.
Regardless of the raunchy religious teaching, praising porn stars is turning out to be a blessing for the collective. So far, there have been gallery shows in Italy and Germany and the U.S. debut of the Pornsaints collection will take place August 2 in Philadelphia at a party hosted by HotMovies.com.
Elise may attend and that excites Foisy who is excited about meeting her muse in the flesh.
Meanwhile, Foisy has faith that the Pornsaint concept will have resonance that goes beyond the initial shock value of seeing porn performers depicted as religious figures, if only because sex is the most transcendent human activity.
"Sex is the one thing humans do that is both part of the body and takes us outside of it as well," she said.
It's even possible that Foisy, who models when she's not painting, could eventually become a Pornsaint herself. Well, maybe.
"I've been asked to do erotic photographs," she said. "I'm open to that, but I don't know if I'd do porn because I'm camera shy."
Still, she says painting porn actresses has helped her develop even more respect than she already had for the ladies who choose to do porn.
"I have a lot of respect for the porn actresses who've become Pornsaints," she said. "We live vicariously through them."