Double Interview: Stoya and Zoe Lacchei
We are glad to introduce you our new awesome team, Stoya & Zoe Lacchei . Coming soon a wonderful Pornsaint Stoya rendered by Zoe, in the meanwhile here's a double-interview with these incredible ladies!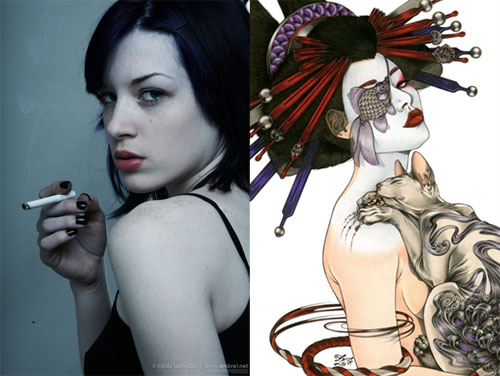 (c) ambrel.net, Zoe Lacchei
Pornpope: Why do you get naked in front of a camera?
Stoya: At first, I got naked in front of a camera because it seemed like a fun adventure. I kept getting naked (and spread, and eaten out, and penetrated, and penetrated in the rear.... gosh, I've done a lot of dirty dirty things on video) because it WAS a fun adventure. Can't think of a better way to have spent my early twenties.
Pornpope: Why do you do art?
Zoe Lacchei: I like to see how I can influence people with images born from my imagination. I want to transmit emotions and feelings with something that it's impossible to see in the real life.
- Does pornography influences your love sphere?


Stoya: I was always so busy with work before and during my adult career that I didn't really have room in my schedule to seriously date.
- Does art influences your love sphere?
Zoe Lacchei: Sure! Without love art could not exist, because we can see art and love only through our heart, and our hearth looks everything in a very personal way. To watch an artwork it's like taking a glimpse of the soul of an artist and to watch everything inside him. You can understand if a person is passionate, morbid or nostalgic. For me it's always dangerous to be charmed by the work of an artist because if the feeling it's strong, it's like to fall in love.
Stoya: Right this minute I'm in love with snow. I may or may not be in love with the way a particular man curls his hand up at my waist when we are asleep, but love may be too strong of a word to put on it. On Tuesday I will be in love with aerial acrobatics for precisely one hour, at which point I will hate it until my muscles stop hurting. :)
Zoe Lacchei: Yes, with my beloved husband. I'm a lucky girl.
- Is there something sacred?
Zoe Lacchei: If you talk about religion I must to say that I don't believe. I don't like the clergy but I really love religious art, with all these charming symbols like sacred hearths, saints and creepy stuff. The only sacred thing it's the one you devote your life to. I believe only in this.
Stoya: I'm sure there is, but I haven't figured it out yet.
(c) Digital Playground
- What do you like in porn?
Zoe Lacchei: I'm a fan of porn:) I started my career drawing porn comics and it was very funny. I think that porn it's a way to be free, showing that nothing is wrong or dirty. It's just sex, and everyone do it. I talk as part of the public, obviously to make porn movies is different. Anyway, I respect female pornstars. The most important thing is to feel confortable with what you do and it doesn't matter what others thinks about it.
Stoya: I am constantly fascinated by the way sex in porn is stripped down to the most base physicality in most cases. In a way it purifies the act of sex, distills it into an act of raw physical and sensual pleasure without the adulteration of sociologically driven relationship models. Not that there isn't plenty to be said for romance and emotional attachment as well...
- What you don't like in porn?
Zoe Lacchei: I don't like when porn it's not "consensual", when there's the feeling that someone do it only because he/she has some serious personal issues and can't do anything else. As everything else porn has a dark side and often is possible that someone takes advantage of you.
Stoya: I find the business side to be such a drag. That's why they still call it work, folks.
(c) Zoe Lacchei


- What does "Pornsaint" mean to you?
Stoya: I've always seen Pornsaints as an art collective which endeavors to show graphically sexual strong women in a different light than they are usually shown. I'll be interested to hear whether that is at all accurate.
Zoe Lacchei: It's the most beautiful way to celebrate a porndiva like a Saint and not like a sinner. I think that it's a great project with a strong message and I'm really happy for the opportunity to work with a cool girl like Stoya. To me she represents the very essence of a different beauty, both sensual and innocent.
- What is the weirdest thing to happen to you in your career?
Stoya: I don't think anything weird ever happened at a shoot. However, a friend recently described my life as "a three-ring clusterfuck of wacky" so my definition of weird is probably skewed.
Zoe Lacchei: A guy asked to me (by e-mail) to draw a tattoos for his penis...



- What's your favorite artist?
Stoya: James Bidgood, Colin and Sas Christian, and Ellen von Unwerth.
Zoe Lacchei: I can't say only one: Nobuyoshi Araki,Takato Yamamoto and Saturno Buttò.
---