Claire Bondage
Another girl is raising the Pornheaven: Claire Bondage, rendered by our new pornbishop Kristal Blanco. Welcome aboard Claire!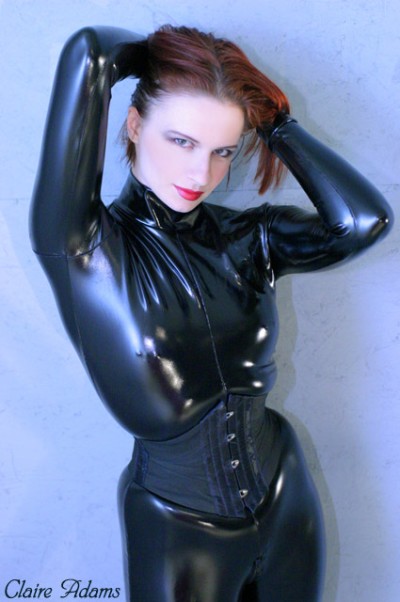 About Claire:
"You may have seen me as a helpless bondage model in extreme restraint, a merciless sadistic Domme on camera, rigging in places like Vanity Fair, or have seen my work as a Director on sites such as MeninPain.com and many others. I have experience, educate, and enjoy being a bondage fetishist! I have lots of names and faces: Claire Adams, az, Gord Girl… Pick what you like, I'll answer to any!
I have been interested in things of an exquisitely kinky nature from early childhood. Having only my imagination and no peripheral sexual imagery, I started working on devious plots for my Barbie dolls. Ken abducting Barbie for his harem and suspending her upside down and being beaten in one of his palace chambers (my glass bookshelf) while a vicious gangbang is going on in another part of his domicile was everyday fun and games for me ? Like so many of us, I intuitively knew the fantasies I was enacting with my Barbies were my little secret and not to be shared with anyone.
Don't we all like dirty little secrets?
Moving on through adolescence, I gained an interest in drawing and started creating many naughty pictures of my fantasies and fantasy women all centered on the same theme: big tits, corsets, long legs, long hair and big butts. I also developed a fascination and fetishism of dancers, their feet, their legs, and most importantly their pointe shoes... mmm!! A very important fetish of mine...
I was an immensely happy camper when the advent of the internet reached my home! Instantly corset makers, SM 101 guides and bondage imagery captivated me and the relationship between fantasy and reality was formed. After starting to read SM literature like Gloria Brame's "A Different Loving," and many other instructional staples in the leather community, I actively began participating in D/s-BDSM games through high school.
Once I was legal to be publicly devious, the quest to explore/exploit my desires and fantasies with others started taking shape. The first site I worked for is the now retired Insex.com (Currently InsexArchives.com). Before going up to shoot with them, I viewed the site and having a fairly good idea of what I was getting into got entirely intimidated! However, somewhere inside of my kinky Claire brain was the intuitive confidence that I could succeed at their work and furthermore, would probably really like it. I believe this calm internal drive and desire for challenge is what has enabled me to be in and enjoy the most challenging and difficult bondage positions out there.
I am a lover of pain, bondage, endurance, literally the sport of bondage as well as the eroticism of discomfort- let alone the psychological aspects that all activities in this arena present. As a Domme, sub, slave, director, rope slut, pain slut, and sadistic switch I can only hope that you enjoy what imagery I can present for you with as much pleasure it has brought me to create it for you.
To share my fetishes and personal journey is an honor"