Back from Philadelphia
Philly welcomed Pornsaints with open arms August 2nd. The show was so much of a hit, even Ron Jeremy had to comment on it.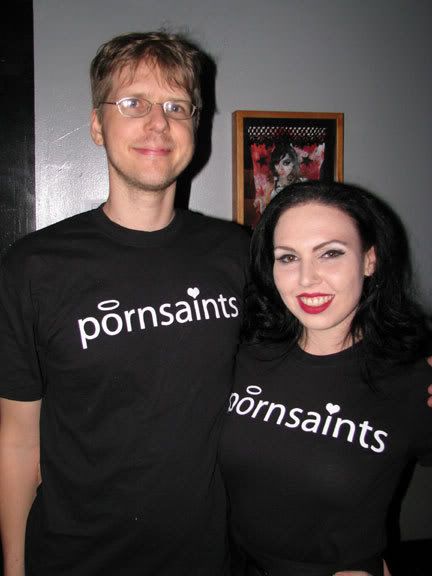 Your dutiful pornbishops Jeff Faerber and Katelan Foisy. Photo by Stacy
"The art exhibition in the downstairs bar was super classy, too. PornSaints rolled out some gorgeous portraits of the hottest ladies in porn. I gave some quotes, signed more boobs and made out with one of the artists. The only thing sexier than a artist is a talented artist." And yes, I was the one kissing Ron Jeremy, even though Jeff may fight me on this.
I was lucky enough to be joined by fellow curator Jeff Faerber as well as Julio Aguilera. Hotmovies did a wonderful job of making sure we had everything we needed and AVN was super supportive of our mission. Special thanks to Ron Jeremy, Joanna Angel, Tom Johansmeyer from AVN, James, Johnny Zito, J.D. Bauchery and of course Richard Cohen from Hotmovies.com, Emily Poole ( our photographer), Naughtygirlradio.comJenneka Jones, Jonathan Kyle, and Tyler Ridgeston for their support. I would also like to thank photographer John Palcewski for sending me the photos he took of the show, as well as Kurt and Chris from AVN and Stacey.

Jonathan Kyle, Katelan Foisy, Joanna Angel, and Tyler Ridgeston. Photo by Emily Poole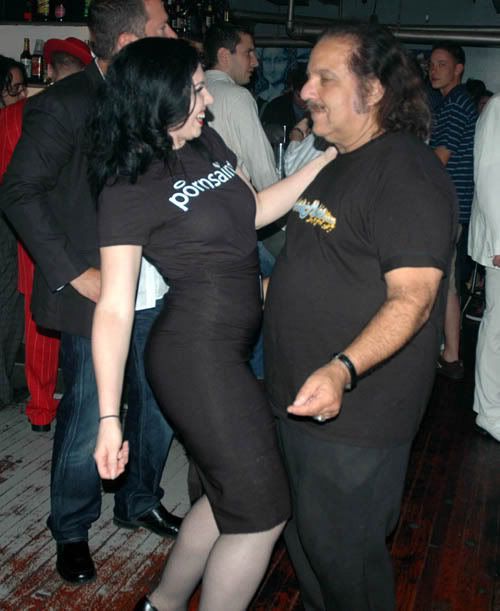 Luring Ron Jeremy with smooth moves. Photo by John Palcewski
Jeff kissing Pixie Pearl, well, sort of... photo by Stacy
Kat and Tom from AVN photo by John Palcewski
Pornsaints supporter Jenneka Jones in front of Francesco D'Isa's Anna The Nerd photo by Emily Poole
For more pictures you can check out these links:
Part 1: Kissing Ron Jeremy
http://bloodandpudding.livejournal.com/223693.html
Part 2: Misbehaving With Pornstar Brothers
http://bloodandpudding.livejournal.com/223992.html
Part 3: The Beautiful Joanna Angel
http://bloodandpudding.livejournal.com/224139.html
Part 4: The Fabulous Press