April Flores interview
Once I became a Pornbishop I knew who I wanted to paint. I sent an email to April Flores and asked her if she would be interested in being my muse and letting me interview her for Pornsaints.com.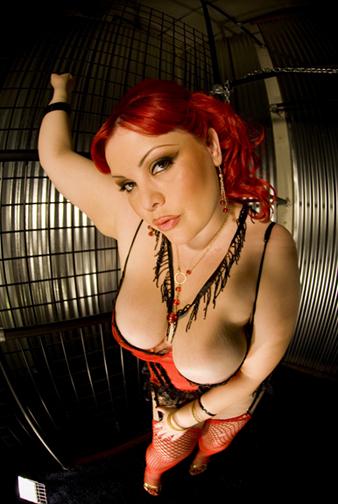 She was so excited and earnest in her reply I knew she would be an amazing lady to work with. I was absolutely right (like I usually am *grin*). April is as sweet and as intelligent as she is lovely. This Southern California native is taking over the counterculture and porn industry and making it her own, on her terms. What I love about April is that she is not your typical pin-up model, or porn star. This gorgeous redhead is smart as a whip, insightful and is breaking stereotypes and boundaries with every project and magazine cover she graces. April Flores doesn't limit herself and she is definitely is not allowing anyone else to limit her either.
April honey- you Rock!
Gigi: I'm curious as to how you got started in the sex industry?
April: I took a unique path to get where I am now. I started off nine years ago when I met photographer (and now my husband) Carlos Batts. He approached me and asked me if I would be interested in modeling for him. I have always loved to be in front of the camera, and I was really attracted to him, so of course I said yes. When we met to discuss the shoot, he told me that he wanted to shoot me in a bikini. At the time I was a little apprehensive because I had never done anything like that, but I didn't want to let my inexperience get in the way of trying something new. I was also flattered and excited that an artist drew inspiration from me. During our first meeting he said that he wanted to change the world with me, and we have been working towards that since then.
When did you make that transition from modeling to porn star?
The one constant element in our relationship has been us taking pictures and since 2007, shooting film as well. I have evolved as a subject by always pushing my boundaries and using each shoot to grow. We have so many images! It's cool because we have a visual history of our lives together. Late in 2005 Carlos got to shoot Belladonna for a Japanese magazine called Warp he thought it would be cool if she and I shot pictures together for our on-going book project. When I met with her I was instantly comforted by, and attracted to her genuine, sweet demeanor. She asked it I would be interested in shooting a sex scene for one of her movies. As I am always up for a new experience, I said yes. Plus I thought she was super sexy! After that, I became more interested in expressing myself through the moving image. Carlos started filming me more than shooting stills, and began to write our first film Alter Ego. Our second film is Voluptuous Life and it is a glimpse into a year in our life traveling, having sexy fun, and it spotlights many of our amazing friends. I'm lucky because most of the projects I have been involved in have been directed by friends. My journey to get where I am has been very gradual and at my own pace.
How does being a porn star effect your personal life in regards to intimacy?
I have a very strong relationship with my partner, so doing porn doesn't affect my relationship in any negative way. He and I are very adventurous in our personal sex life, so I think it all blends to create a very nontraditional marriage, but one that works for us. I feel that since we are very open about our desires and explore our fantasies together, it makes us stronger. We are partners in every sense of the word.
How does your family feel about you being in porn?
I think most of my family knows what I do. I haven't "officially" told everyone, but I have many family members who are my friends on Myspace and Facebook so they must see all of my adult-related posts. The only person I was really nervous about telling was my Mom. Once I started working regularly, I decided to tell her so that she could hear it from me and not someone else. She didn't say much other than that it was my decision. My cousins are super supportive, and come to our events. My cousin, Vallerie even does hair for the movies Carlos directs. My sister comes to most of the events, and it's really great to have here there with me. She came to the screening of Voluptuous Biker Babes earlier this year and I was not sure how she or I would feel when my scenes came on. It was so funny because at one point I glanced over at her and she was sitting there covering her eyes with her hands!
Why you get naked in front of a camera?
I get naked in front of the camera because I am an exhibitionist, and it's something I really enjoy. Having done it for nine years now, it has become a part of who I am and how I express myself. What do you like in Porn? The thing I like about my experience in porn so far is my fans. I started doing this to show people that size should not dictate happiness, or limit you from expressing and enjoying your sexuality. Hearing feedback or reading emails from women who have been positively impacted by seeing me is the best feeling ever! One of the other best things about porn is the friends I have made. I have met some of the most genuinely wonderful people who I've had the privilege of becoming friends with. I also like that porn has given me the opportunity to grow as a performer. Modeling for the still camera was and still is very satisfying, but it doesn't compare to the feeling of moving specifically for a video camera. I like that porn allows me to explore my sexuality in ways that I never dreamed would be possible. I enjoy pushing my sexual boundaries and being able to do that while indulging my exhibitionist tendencies makes me pretty happy.
What does "Pornsaint" mean to you?
Pornsaint means the mixing of art, porn and religion. I think it's pretty remarkable that you showcase artists and performers in a non-typical fashion. I love the idea of blending sex, religion and art because they are all interconnected, yet distinctly disconnected elements of life. One of the main things I often try to do is incorporate sex and art. Adding religion makes such a strong statement and is what makes the Pornsaint movement so groundbreaking.
What is the weirdest thing to happen to you at a shoot?
Luckily I have never really had anything weird happen to me at a shoot. My memory isn't the greatest, and I only tend to remember positive things, so maybe my brain has blocked out anything weird that may have happened.
What do you not like in porn?
What I do not like in porn are the health risks associated with having unprotected sex with multiple partners.
You already are very active the art world, can you tell me a little bit about plaster casting project that you did?
My husband Carlos Batts came up with the idea for the April Flore Toy Show and is its curator. Carlos and I always try to mix art with sex and this seemed like a great idea. This project was inspired by the irony of fine artist Jeff Koons' work and the playfulness of the lowbrow artists' beloved Dunny movement. In this exhibit, the toy cast provides the blank canvas on which each artist expressed their vision. The cool thing about this show is that it's an unusual format in which to explore issues such as beauty, sexuality, pleasure toys and art. The show has been exhibited in Los Angeles, San Francisco and will be in New York and Philladelphia on October 22nd and 24th respectively. New artists from each city will be added, causing the show to evolve and incorporate elements of each city it visits. Each artist has put a lot of thought into their piece and made a unique statement. I am so honored by the participation of each artist and their willingness to use a non-traditional medium as a canvas.
What's your favourite food?
I love carbs like mashed potatoes, rice and beans, fresh bread with butter! My favorite types of food are Mexican and Cuban. What's your favourite Colour? Pinks and Reds are my favorite colors of course!
What's your favourite top 3 Movies?
This is a hard question to answer because my taste in movies is always evolving. For example when I first saw "Blue Velvet" I could not sit through the entire film. Now, it is one of my favorites. I have always loved Disney's "Alice in Wonderland" and "Pee Wee's Big Adventure". What's your favourite top 3 books? Some books I have enjoyed reading are "The Coldest Winter Ever" by Sister Souljah, "The Kitchen God's Wife" by Amy Tan. I also like reading Lydia Lunch's work.
What song makes you want to rock out?
I recently went to two Depeche Mode concerts back to back and I was blown away by their performance. After seeing them live, I found a new appreciation for the song "Strangelove". I had always enjoyed the song, but the lyrics have more resonance with me now. That is definitely the song that makes me want to rock out!
What song makes you want to cry?
There are many of those. Music has such a strong power to transport me back to a certain time, feeling or emotion from my past. Songs that remind me of sad moments in my life or of my father make me want to cry. Specifically, "Broken Wings" by Mr. Mister, "Precious" by Depeche Mode, and most songs by Julio Jaramillo evoke memories that make me sad.
If you had a super power or could being any "super natural" being-what would it be?
I would love to have the power to become invisible. I would play little tricks on people that annoy me and deserve to have their mind fucked with. I asked your fans to send me some questions that they would like me to ask you- these are the ones I choose out of the dozens I received.
What is your biggest regret is & why?
My biggest regret is that I didn't question the Doctor more thoroughly before agreeing to have my gallbladder removed. I just went along with what he suggested not thinking of how it would affect me in the future. My body has not been the same since and I wish I would've done my own research beforehand. Other than that, I try to lead my life with a positive attitude, and learn from my mistakes. I feel like the bumps along the road are lessons that were placed there for a reason. I try not to dwell on anything negative for too long and I make the best decisions I can. Therefore, there are no big regrets in my life.
...AND if you could kick one person in the throat, who would it be & why? T
his is a really funny question! Like I said, I like to be a positive person, but there are certain people who really get on my nerves. Living in Los Angeles, you meet many different types of people who have come here to find their fame and fortune in the entertainment industry. I have had the misfortune of meeting some small time people who think they run LA. These are some of the slimiest characters I have ever met. I can think of a few that definitely deserve a kick to the throat while I am wearing a steel toe stiletto!
Were you always this confident or is this something that you built over time?
My confidence is definitely something I have built over time. I used to think that being thin equated being happy. I thought if I was thin, I would have no problems. I thought guys would be nicer to me, everything in life would be easier, and that my problems would go away if I was skinny. Then I lost a lot of weight and realized that life is the same no matter how fat or skinny you are. I realized that if I wanted to be happy I needed choose to be happy in my head. Once I realized that everything became better and my confidence grew.
How did you overcome America's very narrow minded view on what's is considered sexy?
I realized that confidence is the most important factor in sexiness. Looks mean nothing if you don't feel good about yourself. I believe that inner beauty shines through and that's what I focus on.
What would you change about media representations of women's bodies?
I think I am doing my little part in trying to change media's representation of women's bodies. I'm not sure if it will ever completely change, but I believe that society's ideas are slowly shifting. Hopefully the media will take note and soon follow with acknowledging a broader spectrum of body types.
You are such an inspiration to so many women, Did you expect to have such an impact on your female fans?
I never in a million years expected to be an inspiration to so many women, but it feels completely wonderful, incredible, marvelous, and amazing!
Thank you April!